Staff
Our dedicated staff members are here to provide support, compassion, and information to help you through your journey of grief and the celebration of your loved one's life.
CedarVale Funeral Home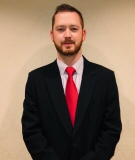 Tyler Jones
Funeral Director Apprentice/Removal Specialist
My name is Tyler Jones, I along with my family are here to serve you and your family in your time of need. CedarVale Funeral Home is family owned and operated. I know how important family is, and treat everyone just like my own. I along with my family live here in the Hot Springs Village. My personal goal is to make sure each and every person who uses our service is met with compassion and understanding as I help guide them through thier loss of a loved one.